Animals caught in New South Whale Nets 1990-2008
by Abby Perez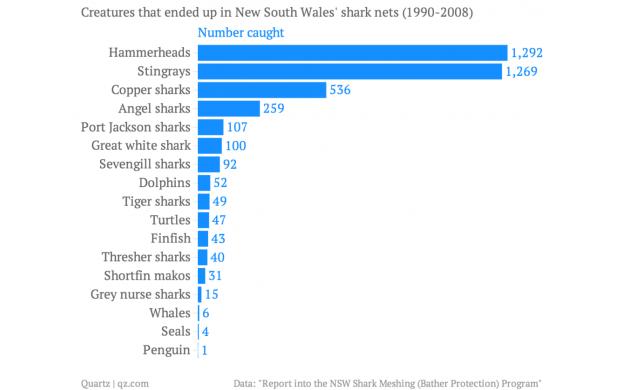 May 12, 2014

Why does this happen?
Does this mean that is the amount of these populations

Where did that penguin come from?

What happened to the animals after they were caught?

Are hammerheads common or stupid?

Why are there so many hammerheads and stingrays?

What's caught more, bigger or smaller sharks?

how was a penguin caught?

How did a penguin end up in the net?

If today one only creature ended up in the net, what is the possibility that it is a shark?

What do those numbers mean about the safety of the waters around NSW?

Are hammerheads and stingrays common in the South Wales area?

Why are there so many hammerheads?

Are there that many hammerheads?

why are there more hammerheads?

Why is there only 1 penguin in New South Wales?

Why are sharks caught the most?

Why is there so many sharks?

why are hammerheads more often caught?