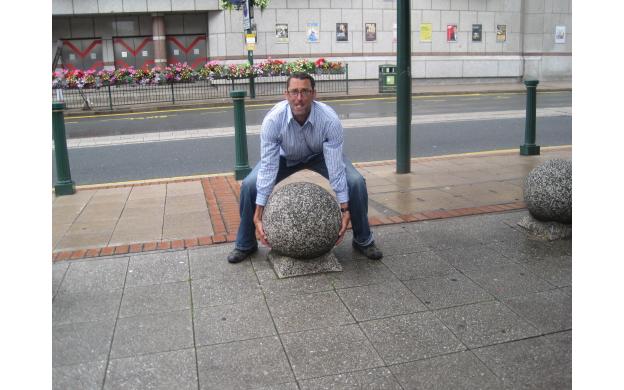 April 28, 2014

Can he lift it?
File

Concrete Sphere

Teacher note

I gave the students the diameter of the sphere and the density of concrete. They then worked out how heavy the sphere was. We looked up weight lifting world records to see if it was possible.

Sorry it is in notebook form, I will use PowerPoint from now on.
What is he trying to lift.

How much will this man's chiropractor bill be?

What is the volume of the sphere?

How much will it cost to have his back fixed?

What's his purpose in choosing the place, action,body language, object?

Is the ball attached to the ground?

Does he really think he can lift that?

Looking at that picture, I cannot possibly publicly state the actual first question that comes to mind.But it was very funny.

How big would the skittles need to be if this was a bowling ball?

How big of a stone ball could he actually pick up?

if you could lift the sphere, how much would it weigh?

Is he trying to pick that ball up?

Why is this man posing for a photo while pretending to pick up a "ball" that is obviously cemented to the sidewalk?

How heavy is that sphere?