Blood on the page
by Marty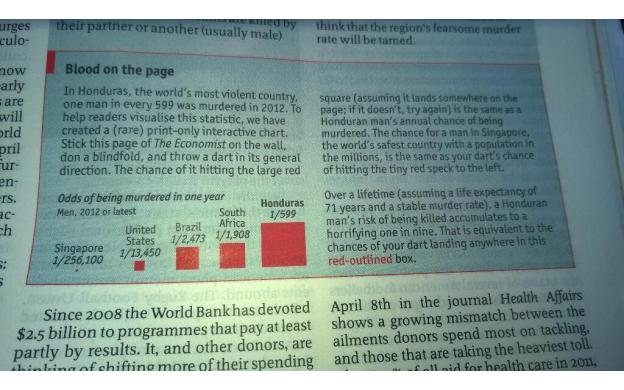 April 21, 2014

Do these blocks match the data?
What context is there for "blood on the page"?

How did I survive in Honduras?

How far away from the wall do I need to stand?

why is this in a newspaper

Why is there blood on a newspaper?

what kind of place is Honduras

How do you go from 1 in 599 to 1 in 9? (See: math)

What were the programs that the 2.5 billion went to in 2008?

Why is it so dangerous in the Honduras?

Are the areas proportional to the ratios they represent? Does Singapore have the lowest murder rate, or the lowest they could visibly print?

Who tried throwing a dart and it actually hit the red box?

Is this article in a newspaper?

What's the first question that comes to your mind?

How does the US rank in murder rate?

Why is Honduras mortality rate for men so high?

How is a print-only chart interactive?

Where can I get a copy of this article?