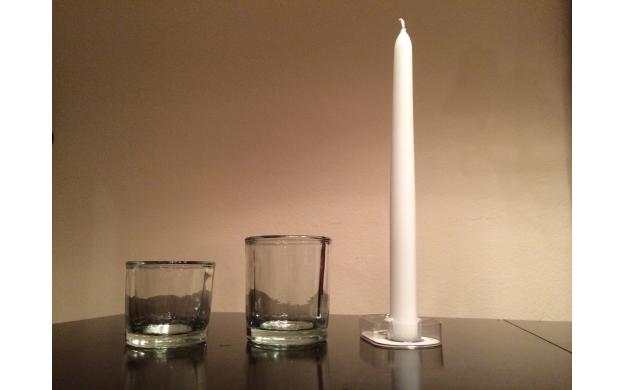 April 18, 2014

Will the wax candle melted fit in none, one, or both jars?
Would the melted candle come closer to filling the small glass or the big one?
What's wrong with the short glass?

If I use either glass to hold the candle and melt it, will the wax overflow?

Which glass will put out the candle faster?

If the candle is melted, will it fill one or both of the votive cups?

Which has the most volume?

What science experiment can we do with these?

Who gets the smaller glass?

Why is the small glass crooked?

Could both cups hold the melted candle?

When the wax is melted, will the wax fill up one of the glasses?

how much taller is the candle then the cups

If melted will the candle fit in either glass?

Is the glass on the left hold as much as the glass on the right?

Will the melted wax fill a cup?

what are the glasses for?

If the candle were to melt completely, which cup would hold the wax?

which glass will be more full after the candle melts

What is the circumference of each object's base?

Would the wax from the candle fit into the two glasses?

why is the candle not lit?

Which object is the largest?

Proportion of the size between cup and candle

Where did the other candles go?

If the candle burns for x amount of hours, which cup height will the candle reach first?