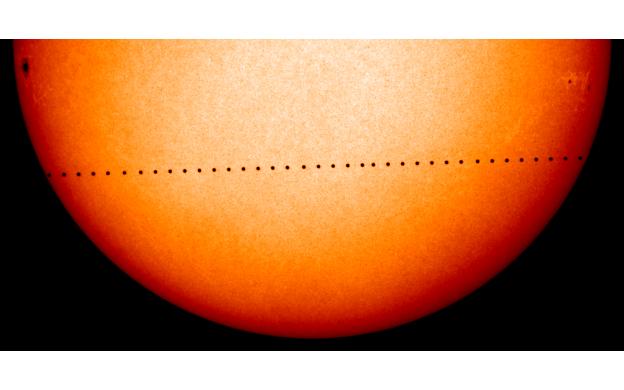 March 21, 2012

How far is it from one side of the sun to the other?
Is that the sun? What is the significance of the line?

What are the little dots for?

Is someone slicing the bottom off of an orange?

How fast is the moon going?

What is the time between each photo?

If that's the sun, what is the length of the dotted chord?

What distance does each dot represent?

How many more "dots" would there be to completely circumnavigate this star?

Is that Jupiter? What's the line across it?

Why would you cut an orange like that? What's the amount of orange you'd waste?

Very cool. What is the obrbital period of Mercury? How much of the orbit can we see here? Are those one EarthDay apart? What is the radius?

what is the cord of the sun?

How long would it take to make this trip?

Is that Mercury transiting the sun?

Why is there one gap that's smaller than all the others just to the right of center?

How many dots, spaced evenly, would fill up the entire 2-d circle?

How long did it take to transit? How many times bigger? What do I mean by bigger? How long is the orbit? Great image!

How much dimmer is the light from the sun when that planet is in the way? How fast is it traveling?

This is the transit of what?

what is that? a planet? an orange?

How long did this transit take?

Where where these photos taken from?

How long is the dotted line?

Whose sun is this and why hath it a dotted line?

Is it a planet or an orange?

what's the average space between the dots?

What is the length of the dotted line

What is the volume of the cross section?