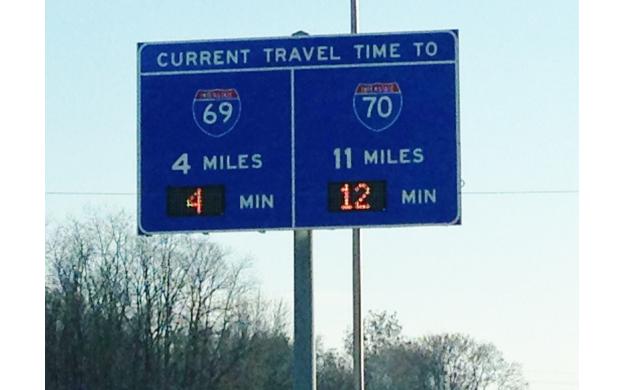 December 11, 2013

What's the speed limit?
Teacher note

Why aren't they the same ratio? There's some rounding that happened (since the billboard can't display the tenths place). In other words, the 4 minutes should really be interpreted as [3.5, 4.5), etc.
Teacher note

I'd set up 3.5 (less than or equat to) t (less than) 4.5 to begin doing this algebraically, then tie in d = rt. Allows you to establish some intervals for possible speed limits. In the end, only one reasonable solution (55 mph) remains.
Teacher note

I'll add a picture of the speed limit sign shortly.
How long would it take to travel to I-69 if traffic flowed at the rate it currently flows between the I-69 and I-70 exits?

Can you determine where the sign is located? By using google maps?

How fast is the vehicle traveling?

What's the speed you have to travel to cover that time?

What's happened between junction 69 and 70?

Does I-70 go all the way to California?

What's the posted speed limit?

What is the distance between the two interchanges?

Why is the ratio different?

The predicted speed is between 60mph and what?

How fast is the vehicle traveling?

How fast are the cars traveling?

why don't the numbers match for I-70?

Is it worth my time to go the "long" way to save time?

how fast is each car traveling

How fast is the person driving?

How is the time calculated?

Is there someone checking the traffic and controling the sign.

Why is there a difference in the rate of time it takes?

What is the weather in Indianapolis today?

What's the quicker route?

Which direction has more traffic?

Why does it take 12 minutes to go 11 miles, when it only takes 4 minutes to go 4 miles?

Is blue really the best color for these sorts of signs?