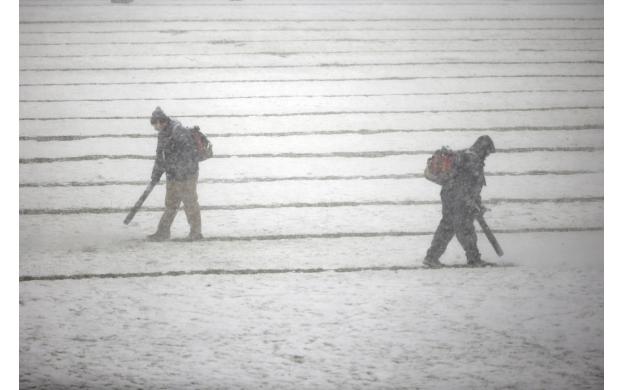 How do they keep the lines straight?

How many times will they have to walk back and forth before they are done clearing the ground?

How large is the surface they are clearing?

How long will it take to blow all of the snow off?

Is that from the force of the air or heat/temperature?

How far have they walked?

(stadium capacity)/(actual attendance)

why are they making lines in the snow?

Ummmmm who's idea was this? Why?

how much time did it take them to do that

Is this the 'Frozen Tundra"?

how do you keep the lines parallel

Total distance each one walks to clear the whole pitch

How many stripes are they doing?

Why are you cleaning the snow?

Why do they need straight lines blown in the snow?

Why are these people making lines?

What is the area of the field that still has snow on it?

Why are the lines parallel?

Are they sucking or blowing the snow?

How long will it take them?

Why are they creating lines in the snow?

How far apart are the lines?

how many lines can they make

How do they know where to put the lines?