Proportional Pencil Projections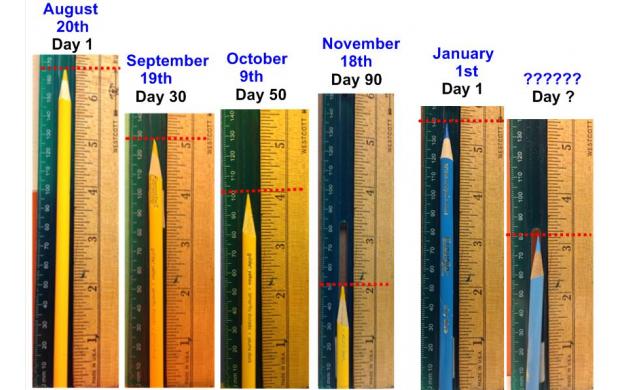 November 24, 2013

At the current rate, when will each pencil disappear completely?
When will the blue pencil be done?

Which class requires the most writing?

How long will a regular pencil last?

How close to linear? Function model?

What day is "Day ?"???????

What is the rate of sharpening?

What is the daily usage rate? Is it linear?

How much is used per day?

At what rate does this person use colored pencils? Is it reasonable to compare a yellow pencil rate to a blue pencil rate?

Why did we go from yellow to blue?

What is the rate at which the pencil is being used?

What will the length of the pencil be on Day 45?

Is the blue pencil used more often?

How long does it take to use up a pencil?

Where is December?Why are they all different sizes?Why are they doing this?

DO I use my yellow pencil or my blue pencil more?

Are the yellow and blue pencils the same in each photo?

what does the color pencils represent?

If usage remains the same for the blue pencil as the yellow, on what day will the blue pencil need to be replaced?

Is it the same person using the pencil? What is they like one color better?

What date did they use the light blue pencil?

How much lead is used each day?

How short will the blue pencil get?

Why are pencils being measured?

What does the picture that they are working on look like?