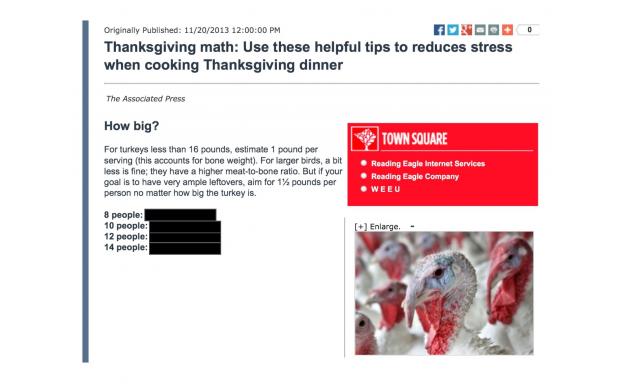 November 22, 2013

How many pounds of turkey will I need for Thanksgiving?
Are Americans so ignorant about proportional relationships that they need that (covered) chart?

How big of a turkey do I need for my family?

How big of a turkey do I need?

Why are all the lines for different people the same length?

How big a bird do you need?

Does each person want leftovers?

Why is there a photo of chickens.

What is wrong with that turkey

How many turkeys will I need to feed everyone?

What is the meat-to-bone ratio for average sized turkeys?

How many people could be fed using six 12lb turkeys?

So it's all about family?

Can the average person multiply by 1 1/2?

I wonder how many people could do this math for themselves.