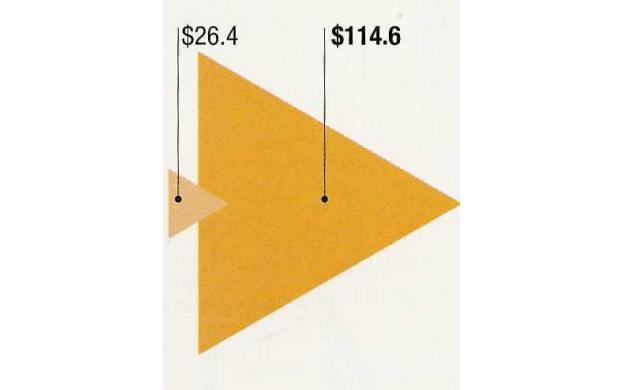 March 21, 2012

What is wrong with the display?
Is that drawn correctly? No way that's drawn correctly.

That big triangle looks a lot more than 5 times bigger than the little one. Is it?

What does this represent?

Are the proportions correct?

What is the scale factor between the two triangles?

Why only have one decimal place in the money?

Are the triangles proportional to the dollar amounts?

Are the triangle proportionally correct to the dollar amounts they represent?

Which one is the better deal?

Are the triangles proportional to the dollar values by heights or areas (or neither)?

Why would someone pay $114.6 for a big orange triangle?

Who priced it that badly? What is the thickness ratio if the price is consistent?

Which is a better deal? (And what are these things, anyway?)

Does the entire triangle represent those numbers or just the points?

Is the scale of the triangles correct?

How many smaller triangles will it take to fill the area of the larger triangle? What would the cost be in relation to the larger triangle?

Are the areas actually proportional to the dollar amounts?

Is the scale factor of the photo accurate?

How long ago did Edward Tufte first rail against these kinds of graphics?

Are the prices proportional?

How much bigger is the bigger triangle

Is the area proportional to the numbers?

How many of the small triangles fit into the large triangle?

is the ratio of the areas of the two triangles equivalent to 26.4:114.6?

How did they decide the prices?

Is the increase in area proportional to the increase in price

Are the ratios of areas and money the same?

What is the connection between shape and $?

Which is a better deal--big triangle for little triangle?

Where is the scale factor used on these figures, the width or the height? It seems misleading because of their respective areas.

Is cost to area proportional?

is the proportionality correct?

Is this representation of dollars and triangles proportional?

How much more does the larger triangle cost per square unit?

What is 1 cm squared worth?

What data goes with this graphic? Are they actually in the correct proportion?

Does the ratio of the areas mesh with the prices?

What is the unit cost of triangle area?

Is this by area? And who uses triangles as a stats chart?