How high can you pull a possum?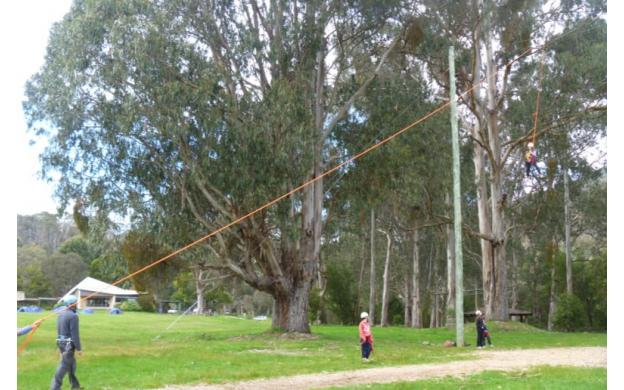 October 21, 2013

How high off the ground is the possum?
Teacher note

Ask children to develop "vital" questions. They can do this as a small group.

As a class children need to develop 3 vital questions to which you can give them answers.

Teacher note

I gave the students the following assumptions.

1. The rope is 60 meters long.

2 the person at the base of the pole is 1.75cm tall.

3. The treated pine logs are 20 meters tall.

Make the children work for the answers. Do not just give them the answers, make them develop the questions.
Teacher note

Butchers paper.

Rulers (if asked for)


1.

How long was the rope? How far do the runners need to run in order to lift the possum to full height?
How high up is the person hanging?

What is the angle of the belayer to the pulley/tree?

how high up is the man on the other side of the string?

What is the safest angle you can zip wire down this without injury?

is that a zip line and how long and tall is it

How high is that wire that the line is over?

What is the amount of rope needed to pull this man up into the tree?

How long is the Orange rope?

How long and far away does the string have to be hold the person 6 feet from the ground?

What is the angle of elevation?

how long is the line and how much weight can it hold?

what is the angle of that rope?

Why is there only one person holding the rope?

how high is he from the ground?

what is the rope hanging from?