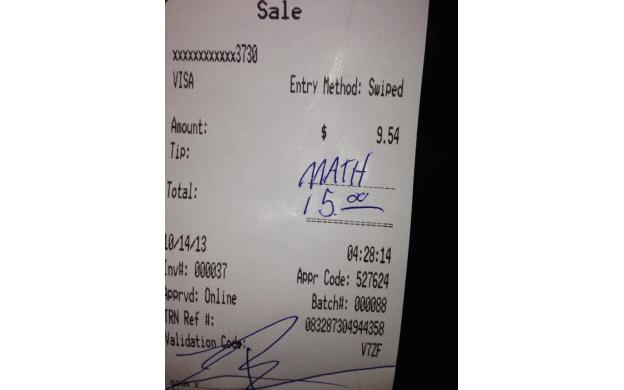 October 16, 2013

Math, huh, good god, what is it good for?
how much of a tip was left for the waiter?

If six customers gave the same tip, how much money will the waiter have at the end of the night?

What is the tip given by the customer?

What percentage tip is this?

How many valid VISA numbers end in 3730?

were they to lazy to do the math and rounded the total to 15?

What percent tip did they give?

Did the customer tip the waiter well?

Will the waitress be able to do the math??

What did you purchase with that amount?

What percent tip is MATH?

why did they write "MATH"?

Would I use addition or subtraction to figure out the tip?

What is MATH worth in dollars and cents?

Why can't this person do simple computation?

What percent of the bill was given as a tip?

WOW, wish I had thought of that.

What percentage did you tip?

how much is the tip amount?

Why does it cost money to do math?

Why is math written there?

Why does he/she want to force busy and hardworking people to take time to subtract?

What was bought?Who bought math? and why?

Did you know the waiter or waitress?