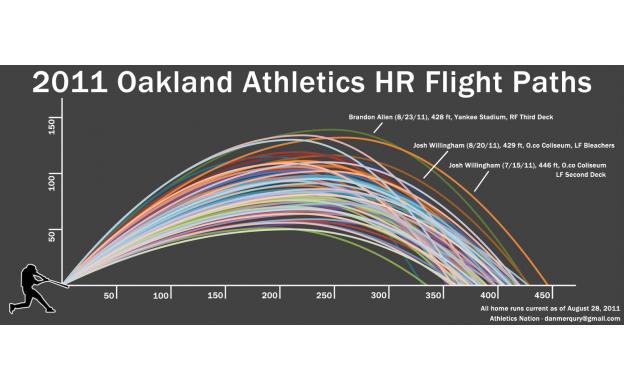 March 20, 2012

How accurate are they?
How fast are the balls moving? I don't know I feel like this tells me the answers upfront.

What's happened to home run distance over time?

what is the equation of the parabolas?

What's the optimal angle?

What height yields the longest hit?

Why aren't the other two home runs that started on the same path as Brandon Allens homer ending up in the same foot measurement?

How long was each ball in the air?

Why is this graph so confusing?

How did they collect the data: do they really know both max height and distance?

Is there an equation that represents that?

How far can the ball fly before the stick breakes

What is the mean flight path?

Cool graphic! What's the optimal initial angle for the ball to leave the bat?

Do some players tend to hit higher home runs?

How do they measure the flight path? How do they know that the ball went up high or stayed low?

How do they get the shape from three points? Is that choice unique for this shape?

What are the shortest, longest, highest, shallowest homeruns?

Do those paths reflect air resistance?

Why is Josh Willingham's labeled? I see the highest is labeled and the longest is labeled, but what makes Josh's special?

which angle gives you the furthest hit?

Where is the wall and how tall is it?

Is there a relationship between the height and the distance?

What makes the ball go the farthest? How could I maximize my hit?

What launch angle is most efficient? what is the lowest launch angle?

WHat is the flight path of the "average" home run?

What is the best trajectory for distance

Does hitting the ball higher always make it go farther? Would this be true in all stadiums, or would a team like the Rockies have an edge?

What do the curves look like for near-HRs (ground-rule doubles, at-the-wall catches)?

What is the average launch angle of all the home runs?

What was the max height of the shortest HR?

Cool! What's the average distance/height of the A's homeruns?

What angle is best to hit the ball initially?

What height gives the maximum distance?

What is the optimal angle of ball to ground?

How do the flight paths needed for a home run change with each stadium?

Would any of these homeruns clear the Green Monster in Fenway Park?

At which angle should you hit a baseball to make it go the farthest? DO NOT ignore air pressure!

What is the optimal angle?

What is the average distance/height of their HR's?

What's the average homerun distance? Were the really short ones still hit out of the park/field?

What is the drag on a baseball?

How did they record this?