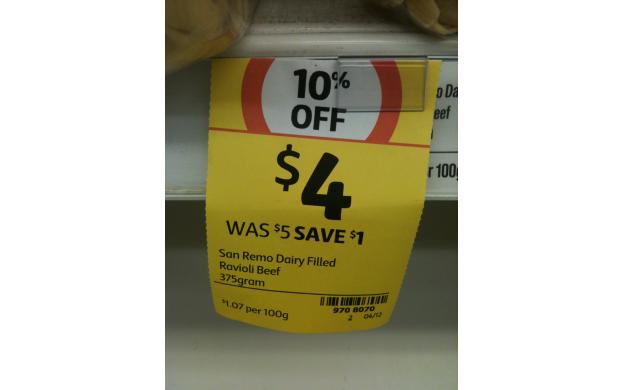 September 17, 2013

10%... Really?
Is that right? What should it be? #error

Why do 40+% of Americans deny evolution?

If the original price was $5. How much will the total discount be?

10% of $5 is not equal to $1. What is this sign telling you?

Who made this sign? What is the price?

If the original price of this item is $5, is it 10% off or $1 off?

Who made the sign? Did they flunk math?

Would a bigger size still be cheaper?

Do they realize that 10% of $5 isn't $1.00?

How much does the ravioli cost?

What math mistake did they make?

is 10% of $4 actually $1?

Why doesn't it say 20 percent off?

Is it 10% off on top of the 20% off?

Isn't saving a dollar saving 20%?

How much did it cost before the discount?

what is the actual percent off?

If the percentage is correct, what should be the price? If the price is correct, what should the percentage be?

Is there a 10% off the $4 price or does someone think that 10% of $5 was $1?

If it was $5 and it's 10% off, shouldn't the new price be $4.50? Or is it an additional 10% off of the sale price $4?