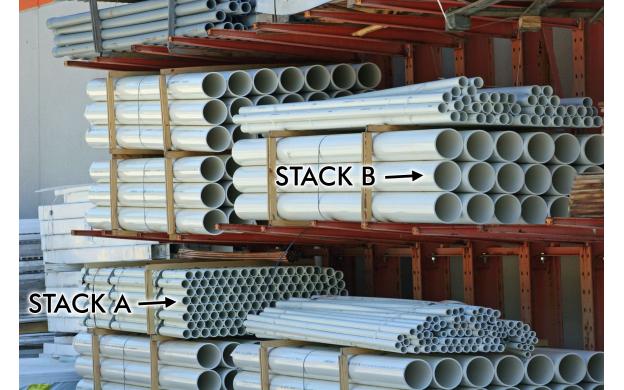 September 13, 2013

How much shorter are staggered pipe stacks, assuming the same size pipes and the same number of layers?
Which method is more efficient for stacking pipes?

How many small, medium and large tubes can fit on the shelves to use the space to it's maximum capacity.

How many of the narrower pipes would fit into each large pipe?

Which stack has more pipes?

Which area is bigger in the cylinder?

What are the respective diameters?

What is the radius of the pipes in Stack A and the pipes in stack B?

What's the radius & circumference of each pipe?

What is the difference in the circumference between 3 pipes from stack A and one pipe from stack B?

What is the size differential between the length and/or the diameter of each size of PVC pipe?

How many small cylinders fit in the same space as the large ones

What is the relationship between the small and larger pipe diameters? How many more smaller pipes fill the same space as the larger pipes?

Why isn't stack B stacked in a more space-filling manner like stack A?

Which method saves space?

What is the ratio of pipes in Stack A to pipes in Stack B?

difference in # of pipes per stack

How high does your stack of pipes have to be for it to be more efficient to pack them like Stack A, rather than Stack B?

Which stacking style is more efficient?

brudekjoler stikkontaktWedding Dress Factory OutletWedding Dress Factory OutletTop Quality Ball Gown Brudekjoler US Dollar Euro GB Pound

What are the tools used for?