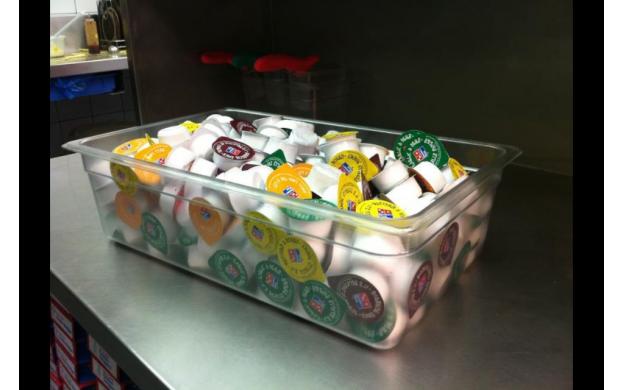 March 19, 2012

How many dips are in the basket?
How many glasses of milk/cream could I make?

I love BBQ. What's the probability I reach in randomly and grab a BBQ?

How many packs will fit in that tub (with a lid on)?

How much space is wasted?

How many small things are in the container?

How many creamers is that?

Which type has the most in the bin?

How many fluid ounces do all those smaller containers hold?

How many things are in there?

How many containers are in the box?

What flavor of coffee creamer is used the most?

What are the odds that you would randomly pick a green one?

How many pots of sauce/dip?

How many containers are there?

How many sauces are in the big container?

Are those all headed for the trash?

How much butter is in the container?

How many creme containers?

What if the costumer wants to have a certain color?

How many can fit in the container?

What's the volume of the container?

Will more fit in if you stack them neatly?

How many green-topped containers does this bin hold if the visible ones are representative of the greens' ratio to the total number?

how many sauce packs fit into that small box?

Is there any other way to arrange them more efficiently?

What is the color ratio for each color?

How many little containers of _______ is that?

How many sauce packages are there? Which kind is the most common?

If a restuarant goes through 80 a day, how many bins do they need to prep each day?

What's the ratio of usable stuff to waste for these things and how does it compare to the ratio you'd get for, say, a soup can?

Can you estimate the empty space is in this container?

If you were to dump out the contents on the small containers, what fraction of the larger container would it fill up?

How many tiny cup containers fill the tray?

If each 3 oz. cup makes a 12 oz. beverage, how much water will be necessary to brew everything here?

Is there a more efficient way to store the cups?

What is the volume of the tub?

How many mini cups fill the container?

what is the size of he container?

Approximately how many pizzas will need to be ordered until those are all gone?

How many butter containers are in the box?