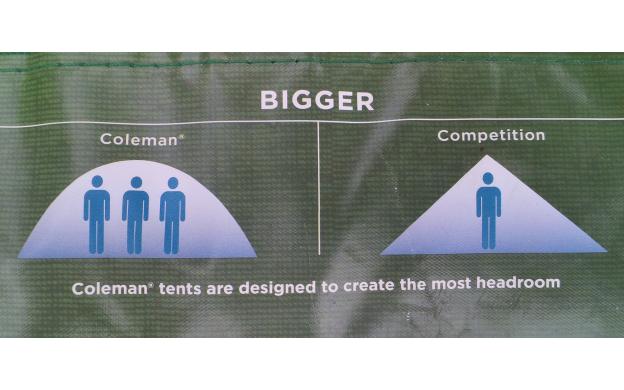 August 05, 2013

What are the area measurements of both spaces?
How much more headroom is there?

How do the volumes of the two tents compare?

What is the purpose? What if you only want to have 1 person? What is in the background of the tents? Where is this advertised?

How big must each tent be to fit 25 people?

How much larger is the Coleman tent?

How much extra space do you get from using a dome?

What is the height of each tent?

Which tent creates the most headroom?

How can the claim of more headroom be proven?

Does it really have the most headroom?

How much more headroom in tents with the same base and height?

Competition tents are designed to create the most peace and quiet. Right?

What's the volume of the tents?

What types of shapes are most conducive to headroom?

Aren't tents designed for sleeping mostly? (both tents have the same amount of floor space for sleeping.

Is the area volume the same?

Why do only men go camping?

What was the size difference between the two different tents?

Are both tents the same heights?

What matters in camping is weight: kg-for-kg do you get more more space?

Why does a dome-shaped tent provide more headroom than a triangular-shaped tent?

What is the surface area?

yeah but how much more do they cost?

What is the difference in volume?

How many people can sleep in the triangle tent?

How much more volume is in the Coleman tent compared to the competition?