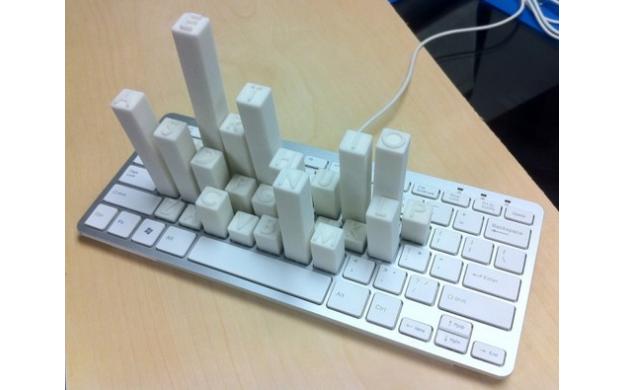 August 05, 2013

What is this a display of? What are the relative frequencies?
Where can I get this image to go with a lesson based on Marilyn Burns Alphabetic Probability?

Are the tower heights proportional to what letters are used most often?

Why the different heights?

Does this spell something in particular?

What is the height of the tallest key?

How tall would the space bar be?

Are the letters elevated to match their frequency of use in the english language?

Which are they keys most often used?

If the space bar had a "usage height", would it be the tallest?

Is the "E" the most frequently typed letter?

How often are each keys used?

Does this relate to frequency used?

How tall are these blocks?

Does the height of each stack represent the frequency of key presses while typing?

alta qualidade réplica relógios para homensrelógiosrelógios mecânicos suíços réplica movimentoTag Heuer US Dollar Euro GB Pound

If this is a frequency graph, why aren't E and T reversed? Shouldn't A be where F is?

Does the height of the keys relate to the frequency of their use?

Who could use a keyboard like that?