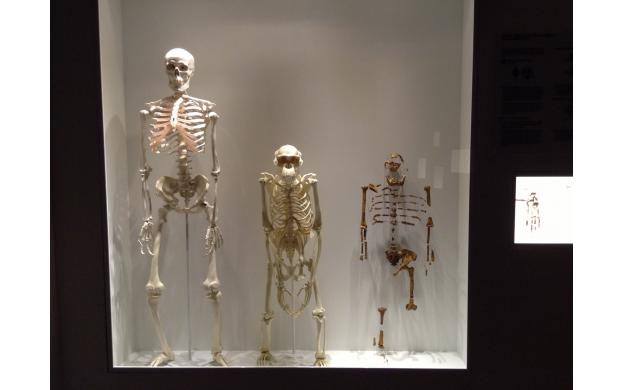 August 02, 2013

If the skeletons shown are the average heights of man and chimpanzee, how tall would the chimpanzee be if the man is 6 ft 2 in?
1.

How tall is the man?

2.

How tall is the chimpanzee?

3.

How do you compare them once you find out?
1. Convert the height of the man to inches.

2. Create a proportion comparing the average heights of man and chimp by referring to the Woodland Zoo link provided in Act II.

3. Solve for n.
What will the average human height be in a million years?

How long are the arms in each skeleton in relation to the height?

What's the ratio of skull size to shoulder width?

how old is each skeleton?

How are these alike and different?

what is the hand bone all the way on the right side?

How old are these skeletons?

Where are the rest of the bones!

How old is the little skeleton?

What happens with the music starts?

Are they human bones comparing to monkeys?

How old is the skeleton on the far right?