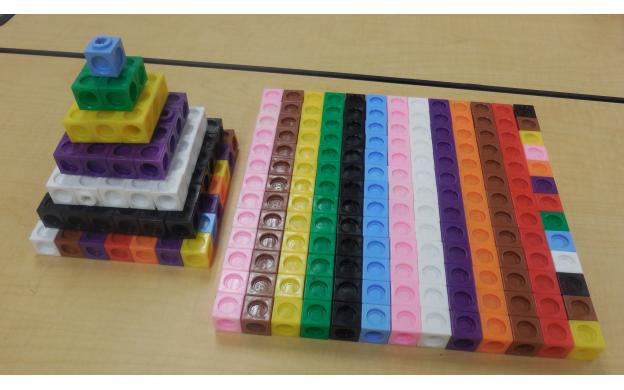 July 25, 2013

Which shape has more cubes?
How many more layers are needed to build the pyramid structure on top of that base

How many blocks are there? Do they stand for decimal places?

whats the difference in volume between the two objects

- How many cubes are in this picture?- Is that pyramid meant to represent perfect squares?- What colour did they use most?

do these shapes contain the same number of blocks?

What is the most effiecnt way to count these groups of unifix cubes and why do you think that?

How many identical towers could be created with those blocks?

Does each figure use the same amount to cubes?

Do models have the same quantity?

How many more layers do I need to complete this pyramid?

is it the same number of blocks?

why is the last row not color matched?

Why do I need to learn math?

Do the two structures use the same number of pieces?

How many levels of the tower could you make with the blocks provided?

is the base hallow or filled?

why is the last row different?

Do they have the same number of cubes?

Are the two groupings equal

What would be the total number of cubes if the base was the square on the right?

How many bricks are in each layer?

Are there the same number of block in each set?