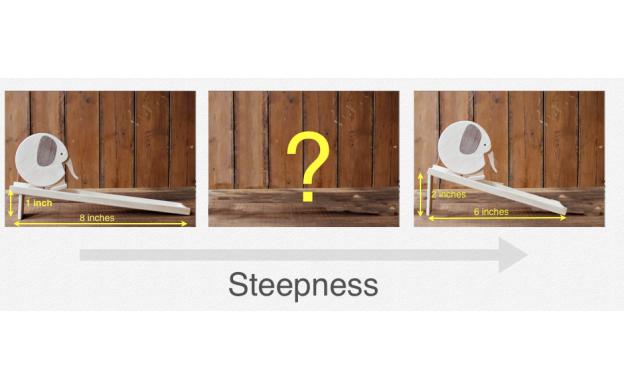 July 11, 2013

What is are the dimensions of the ramp in the middle?
isn't the second one steeper?

What's a steepness in between those two?

Are the boards the same size?

What does the elephant have to do with it?

What steepness is before and after?

did the length change or what it the height that changed the illousion?

Which ramp is steepest? What is that thing at the top of the ramp?

does the middle photo have a steepness

How steep before it topples over?

How far will that toy roll from different heights?

What is the steepness of the ramp in the middle?

What gradient is half way between these two?

What is the measurement of the leg if the height is 1.5 inches?

Will the middle ramp be the longest, the shortest or in the middle of the lengths of the two ramps shown?

How steep before he rolls over?

what is the slope of each ramp

Which elephant will reach the bottom of the ramp first?

Will the walker walk down the track?

How steep is the ramp if it is 1.5in high?

what is the slope of each board

Is the ramp steep enough for the elephant to roll down the ramp?

What is the slope of the figure in the middle?

Which elephant(?) reaches the bottom first?

Is the one in the middle 1 1/2 inches high and the width 7 inches?

Kevin asks, How are elephants born?

What's the point of this?

Will it make it down the ramp successfully?