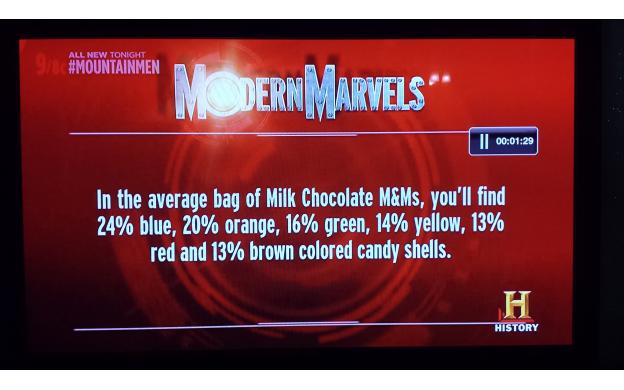 July 04, 2013

Will every bag of M&Ms have this same distribution?
But why is it different for different colors?

How many of each color of M&Ms will you find one one bag of x candies?

How many are in the bag I'm eating now?

Is #mountainmen sexy the way Brokeback Mountain was sexy?

Something wrong with numbers?

How many of each kind are in a Jumbo Bag?

Why is there more blue than any other color? Why is green only 16%? Why is red only 13%? Is it because the flavors are more popular?

How many M&Ms are there in the world?

What is the amount in the entire bag?

Do these percentages vary bag to bag? If so, by how much?

If it is milk chocolate, then why is the least amount milk chocolate?

Is my bag of M&M's average? Or extraordinary?

How many packets were tested to develop this average?

How many m&ms are in the bag?

How many of each color would you expect in a King Sized bag?

If there are 50 M&Ms in the bag how many would you expect for each color?

If there were 40 m&ms, how many of each color will you have?

What is the chance of picking one of each color in 6 draws?

Is there a difference in the cost to make each color of M&M?

Why do we care what color we get? It's chocolate!

What does this have to do with Modern Marvels?

why are more candies blue?

What was the sample size?

How many M&M's come in each bag?

Does then company do this on purpose?

Why so few red and brown?

If there were 30 in a bag, how many would be blue?

How many M&Ms come in a bag

How many m&ms were used in the testing of this?

Why is the distribution of colours such?