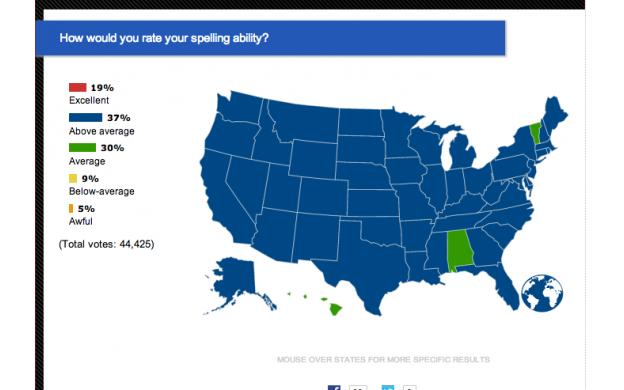 May 30, 2013

What is the average rating people give themselves?
How do you want your CEO to be paid?

Some of those people who think they're "above average" have to be wrong. What's with those three states?

Where are the votes who selected "Excellent"?

How many people are in HI, AL, and ... is that VT or NH?

Where to the poor spellers live? Where is Lake Wobagon where were all above average?

what do these states have in common?

why is that state in green?

What's wrong with this picture? How does this compare to Lake Wobagon?

If given the roots, how do I find the polynomial

Is it possible that everyone is correct?

How did the other states rate?

Do these states have a formal spelling program?

How many people think they are above average, when really they are not above average?

Why is 30% of the total value represented by only 3 out of the 50 states and 2 territories?

Are people more honest in Alabama and Vermont?

How many US states are there?

What were the ages of the participants of the survey?

Why is this relevant to anything

Why does no one think they are excellent?

How many people are above average spellers?