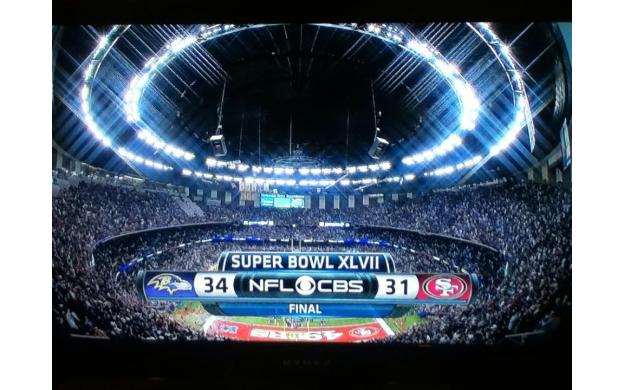 May 20, 2013

How many touchdowns and field goals did they make?
Teacher note

Touchdown = 7 points*

Field goal = 3 points

* Problem can be more complex if we consider all the possibilities after a touchdown is complete: extra point, two-point conversions...


What do the roman numerals represent?

Why didn't all the lights go out, and stay out?

Is that a reflexion or the lights?

How many different ways can those scores be created?

Is this score possible with just touchdowns? Just touchdowns and extra points? Just touchdowns, extra points, field goals? How many?

How many touchdowns did each team get?

It takes more "ink" to write roman numerals than Arabic numerals. How much more? Could you find a rough ratio?

How much money does it cost for each commercial? How many people are in the stadium?

Are the lights proportional to the rings of seats?

How many people in the stadium?

XLVII is which number again?

How many fans are in the audience?

Why did the lights go out?

Who sang during intermission?

What are the parametric equations for the ellipse formed by the first row of seats in the upper deck?

How many watts of power is used per hour in the stadium?

How many people here have murdered someone?

What will the score be this year?

What do they spend on electricity?

How was the lighting made to look like a clam shell?

what are the possible breakdowns of scores?

What's the circumference of the circle?

how many people attended this event?

What combinations of touchdowns and field goals can create the two teams scores? Take into account there are not any safetys.

How many people were at this game?