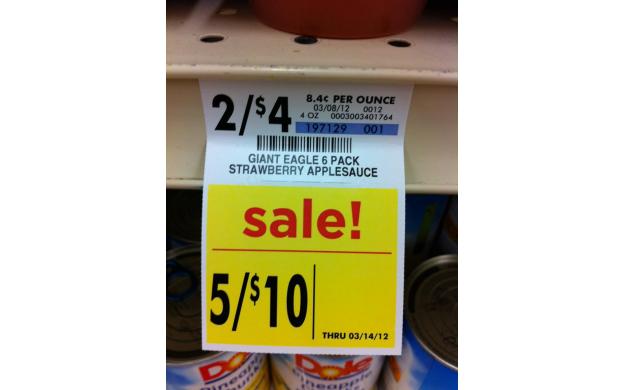 March 14, 2012

How many packs of applesauce represent the best value?
WTF? Are you saving any money? It's still a sale, but not a discount sale.

How much of a sale is it on each one?

Is the sale a better value?

How do ppl fall for this sort of thing?

What exactly is the unit price for the "sale?"

Could I not buy 5 at the 2/$4 price?

Um.. no it's not!!!!! Liar.

Does the store think that ALL of it's customers don't pay attention to unit rate?

How many ounces are in one serving?

Why does it say sale if they are the same price???

How much money would you save?

No question. THEY LIE! PROPORTIONS ARE EQUAL!

Are consumers really that easy to manipulate?

What is the new cost per ounce?

Is the sale price a good deal?

What is the savings per ounce?

How much of a deal is it?

How much am I saving here?

Does the store hope I don't understand math?

Is this really a special offer?

Conversions! Why would you make a sale so complicated.... unless it's a scam?

How badly do we teach fractions in America these days?

What kind of sale is that?

How many people bought 5/$10 today?

Two other ways to advertise this offer.

Is 2/$4 the original price and 5/$10 the sale price? Or are they both the sale price?

How much are you saving per package with this sale? (or Why is this sale designed for people who are too lazy to do math!)

Why is this called a sale??

What is the probability that a consumer does not realize this sale price is the same as the original price and buys the product anyway?

are people really that stupid?

If you buy $5 worth, how many ounces of applesauce do you get?

Why is the sale price the same as the non-sale price?

How many people fell for that?

Why is 4 x $0.084 x 6 not equal to $2?

Do people really think they're saving more than usual because of this 'sale'?

Why did they call it a sale?

....is this actually a sale? (hint: no)

What kind of math is that?

What's the new price per ounce?

Is this a good deal? If so, why? If not, why not?