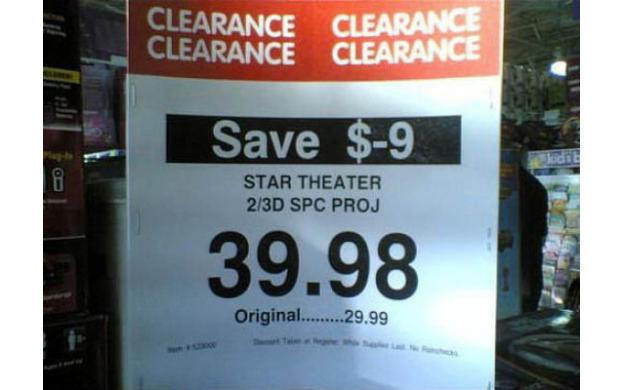 April 14, 2013

Shouldn't it say -$9?
What does saving negative money mean?

Does this mean you have to pay an extra $9?

Why did they round: 29.99 - 39.98 != -9

why is sale price more than original

Ok, so it's a computer glitch, but why is it only save -9 instead of save -10?

What is the percentage of discount?

What kind of idiot made this sign? Gained 9.99 (or saved -9.99)

What does it mean to save $-9?

What percentage are you saving?

Guess who's saving? Not you

Why do you advertise a price that is increasing?

What happens when you save a negative amount?

How many people will think this is a good deal?

If it really were -$9 how much should it now cost?

How can you save the opposite of $9?

What is the percent change from the original?

Is it possible to order for the original price?

Was this picture taken a Walmart?

Why do we have to clarify what domain to which this applies?

how can you save negitive 9

Is this discount correct?

Why is it more expensive now?