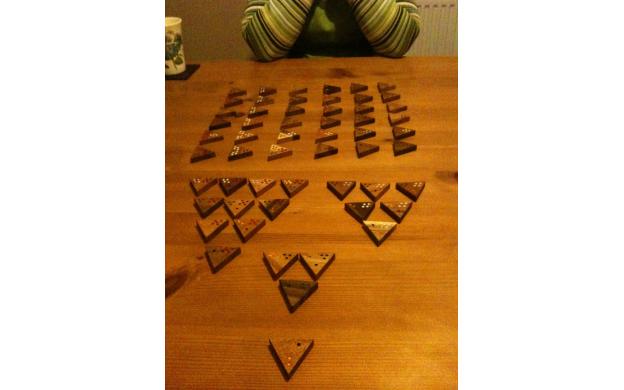 March 25, 2013

How many pieces are there? Could there be more?
Can you make the fifth iteration?

Will the remainder fit into the pattern? Will there be extra or not enough?

Are there enough triangles left for the next two iterations of the pattern?

If you added up all the angles of each triangle, what would the amount be?

How many triangles are needed for the next shape? Which shape is formed by the loose triangles on the table?

How many "empty" triangles are in the next pattern?

What will the next in the pattern look like?

Can you right an equation for this picture?

What are the dimensions and area of the triangle that could be formed by putting all these small triangles together?

Why would you make it asymmetrical???

How many small triangles will have to be added to the arrangement to create the largest possible equilateral triangle?

why are triangles in different combinations?

is this space invaders with triangles?

why would you want to do this?

Is this person modeling the Triangular Number Sequence? Could they model the Sierpinski Triangle instead?