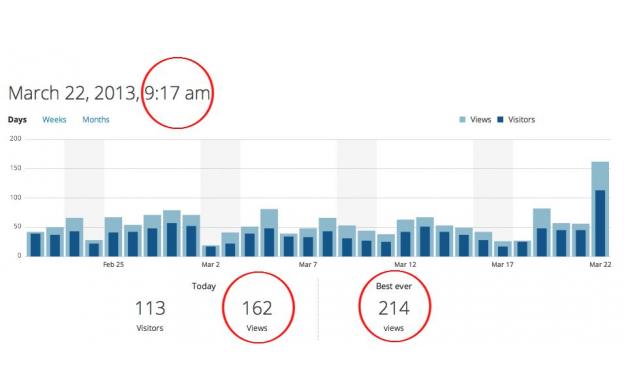 March 21, 2013

Will I break my record for blog views today?
1.

If your answer is yes, at what time do you think it will push past 214 views?

Teacher note

2.

Do you have a guess for how many visitors there will be during Friday?
3.

What does the data for the time after 9 AM suggest about the visitors viewing the site?

Teacher note

After students have played around with the data thus far, it might be interesting to show the image for 9 PM on that day and see how it changes predictions or expectations.
Teacher note

The actual number of visitors may be surprising or just as expected. There is a lot of room here to discuss how the actual result relates to the guesses at the beginning.
4.

How many more views of the blog were there on Friday compared to usual?

5.

At what time should the new blog post have been added to get the highest view rating possible for Friday?
Can I manipulate the numbers to break the record by using lots of different browsers?

Will you break the record?

What is the trend for viewers? Is it going up or down?

How many pages does each visitor view?

When was the date of the "best ever" views, and how many more views do I need to beat that record?

What website is this from?

Will the views today exceed the "best ever" number of views?

How are the number of views being tracked?

How long does it take for the views to double?

Will the record be beaten today ?

Other than it being my daughter's birthday, what caused the spike in views?

What caused the increase on March 22?

Will the site make a new record today?

When did you get 214 views?

How long has the site been up

Am I commenting on the above image or was I supposed to download a file first?

Will the record be beaten today?