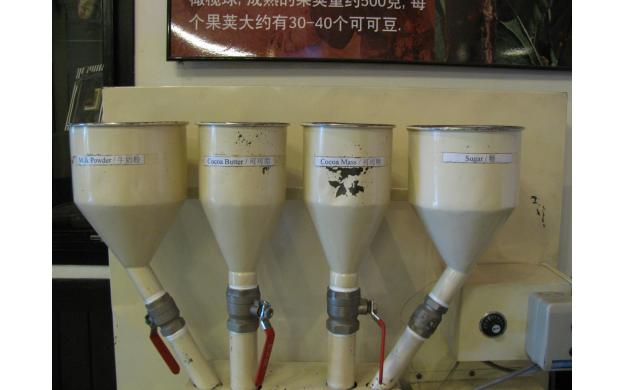 February 25, 2013

What proportions of each are mixed together?
Why are the labels in English and the poster not?

Ratio of ingredients to make final (I assume) milk chocolate?

Are the funnels in proportion to the final result? Does this make milk chocolate?

What is this machine going to make?

Is the proportion of milk/sugar/cocoa in the final product the same as the proportion of the sizes of these funnels to one another?

Are these for milking cows?

What's the current mix and how can you make it cheaper without making the mix gross?

what is the volume of the cones and how fast will they drain if the pipes arre different sizes?

why are the containers different sizes?

Write the most complicated equation to express the number of lines needed to rewrite each word on the funnels in the language on the poster?

Is this used for a recipe?

What are the proportions?

What is the volume of each tunnel?