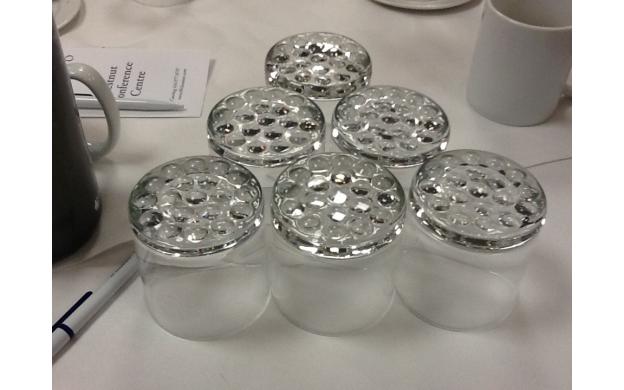 February 22, 2013

How many bumps will the next level on the pyramid have?
How annoyed were your neighbors at the conference table? And what about "Centre" vs "Center"?

Volume of empty spaces between cylinders

How many "bubbles" would be added in the next row?

Is the number of "dots" on the bottom of the glass always the same from glass to glass?

How many glasses could be put on top of this?

How many total dots are there?

How many dots are on there?

Why are those glasses upside down? I used to have those... in the 70's.

How many holes in the frogs in total?

How many ounces of water would it take to fill all of the cups?

How many glasses would it take to build a pyramid rows?

What's the sequence for the number of bumps?

how many circles are in this triangle?

How many glass "bubbles" on the glasses?

How much area is not glass?

How many divets are there altogether?

How many circles are on the bottom of those glasses?

What is the diameter of one cup?

How many different shapes an you create using the cups in the picture?

How many circles do you see?

how many transparent circles are there?

How many triangles can you see?