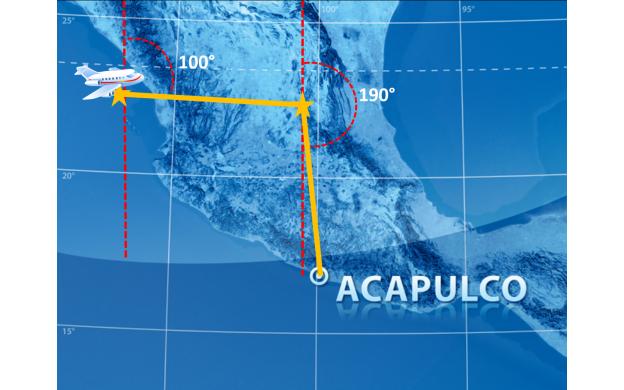 February 01, 2013

How far is Acapulco from the plane's original location?
How far is it to Acapulco

What city is the right star located over?

Why not fly straight to Acapulco?

Why is the plane flying on a crooked path?

WHy is the flight not more direct?

What are the other angle measurements?

How much should I turn to head directly to Acapulco? Why is 190 degrees less than a straight line?

Is the flight path in yellow?

How far are we from Acapulco?

What was the song with Acapulco in it called?

How many miles is it to Acapulco along the highlighted route? How about as the crow flies?

How fast, miles and type of plane??

How far is the plane from the airport?

How long does the flight take?

Is the 190 wrong, or does the earth's curvature just make this flat representation look wrong?

Why wouldn't you take the crow's path? What is the difference in distance between the crow's path and the one highlighted?

how long does it take to fly to acapulco?

On what bearng does the pilot need to fly?

Why does the plane fly across the shortest path?

How much gas would be saved by flying a direct route.

Where are they coming from?

How far is the plane from Acapulco

How far does that plane travel?

How far would a straight line to Acapulco be? Assuming flat world.

Are the vertical red lines supposed to be parallel?

What is the bearing for the direct route to Acapulco?

How far is the plane from Acapulco?

Isn't trigonometry different on a curved surface like the earth?

What was the average speed of the plane?

What is the city of origin?

What should be the bearing of the plane if it takes a more direct route.

What's the distance to Acapulco?

What is the angle from the plane to acapulco

What's wrong with this picture?

What do the degrees measure?