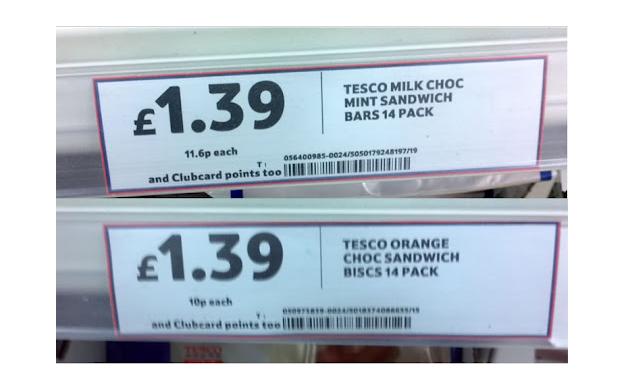 February 09, 2012

Which is right? What mistake has the shop made? How many ways can you correct the mistake(s)? (BTW - sorry for poor focus on second photo!)
Which one has the math wrong for finding cost per item?

Why is the price for "each" different?

Why are they different amounts of pence each?

Which is correct? What mistake have they made?

Why difference in unit price?

Why do the signs give different unit prices?

Why is there a difference when you buy them in singles? (10p and 11.6p)

Which has the incorrect unit price?

How come the individual prices differ if the overall prices are the same?

Why are the mint ones more expensive individually?

Shouldn't the unit price be the same?

What does the "11.6p each" mean?

how can they be different prices per bar?

Why are the sandwich bars sold individually at more than the biscuits?

If they are both a 14 pack, why is one 11.6p each and the other 10p each?

Hang on! How can they be different each?

Why if they're both 14 packs, is the individual price listed differently?

Why do the unit prices change even though the price per pack of 14 stays the same?

Why are we always being lied to?

If they each have 14 cookies and cost 1.39 why is one 11.6 a piece and the other 10 a piece?

why are there different prices?

If each product is a 14 pack, how can they have different unit costs?

What moron calculated that unit price? If the unit price is accurate, what should be the price of the 14-pack?

How did the math on the unit prices? And have they been fired?

Is there an error? If so, what is it?

Why does one say "11.6p each" and the other says "10p each"?

Not really a question... but it appears one of the calculations is incorrect.

Can you explain what has gone wrong?

How do you get the same quantity for the same price and get a different per unit price?

What is the cost per bar in dollars/cents?

11.6p each and 10p each. Both 14 packs, same cost. Explain.

what's with the difference? someone's miscalculation? whose?

Why are the mint sandwich bars more expensive individually?

What went wrong with their computer?

How much do you save (or not) by buying the 14 pack?

How many pounds equals one dollar?

How many sandwich bars would make the first unit price correct?

Why is one 11.6p and the other is 10p if in every other way they look the same?

Which snack gives you more food for your money?