Hurricane Irene taketh away.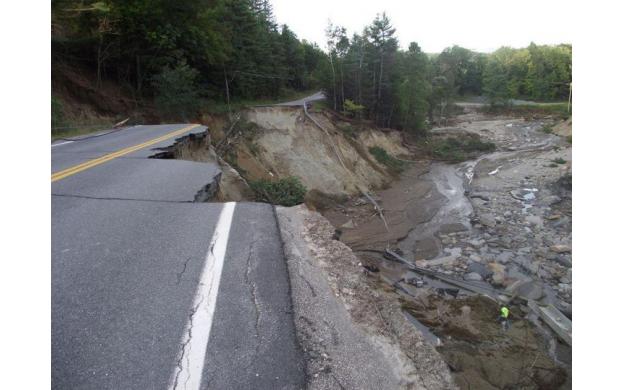 February 06, 2012

How many truckloads of dirt and rock are we gonna need?
How much road is worn away? How much concrete destroyed? What is the force of falling debris to cause that destruction?

How big is the gap/washed-away section?

How much earth collapsed?

What is the size of the hole?

How the heck did that happen?

why did the road break into those discrete sections?

How much road is missing?

How much dirt was washed away?

What happened? / What volume of dirt was removed?

What is the annual rainfall in this region?

how much road is missing?

How long was the ground eroding before the road showed signs of caving in?

How much dirt do you need to fix the road?

What area of road has been lost?

How much road has washed away?

Area of road removed by flood?

Where did all the dirt and pavement go? How much washed away and how much material will it take to fix it?

How long did it take for that to fall?

How long of a drive is the detour going to be?

How much force does it take to destroy a road like that?

How much mass was removed?

How high did the water come up?

How can cars go around the obstacle in the road? What is the traffic pattern?

Where is the rest of the road?

How long until the entire road is gone?