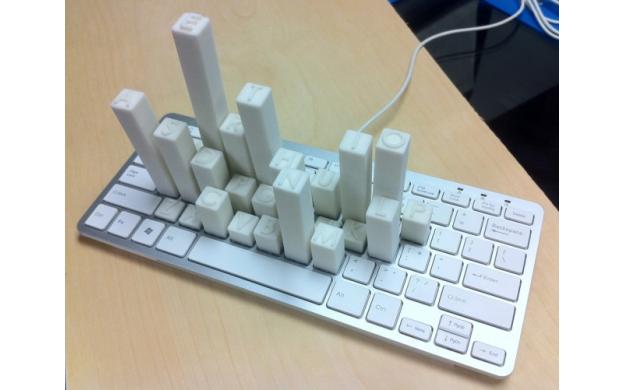 November 10, 2012

What are the most frequently used keys?
Does it work? While visually appealing, I think I'd have a touch time typing.

why not have the most used letters right in the middle of the keyboard?

What does all that represent?

A visual representation of which keys are used the most? Cool.

Does that represent how often the letter is used?

What letter is used the most?

Does this correlate to the keys used most often?

Did somebody put acid in my morning coffee again?

How are the heights determined?How tall would Y be?

does the size of the keys have any relation to the letters? Perhaps height might be represented by order in alphabet.

What units are the bars measured in?

What are the most used letters in the Alphabet?

Does this keyboard represent the relative frequency of the letters used in English usage?

Why does the keyboard look this way? Would it be more or less efficient?

Why are some letters taller than others?

Is the height of the key based on the frequency that this letter shows up in standard English?

How much slower would your average typing speed be when using this keyboard?

if this shows frequency, how could you test it yourself?

Is E really the most used letter?

Why doesn't J get any love? Just jaskin jis jall

Is it height or volume? or does that not matter for the scale?

Why is there a decimal point to the left of the 7?

Is this how often letters are used? What would it be like in French? In Spanish?

Why are the keys like that?

What language may have been used on this keyboard?

Why in the world would we put letters that get used more often off to the sides? #QWERTYmistake

Where can I get a keyboard like that?

Is it sugar? Will it still work? Is it a certain city? Did it ruin the keyboard?

What story does this bar graph tell?

What would the numbers look like?

are the keys based upon usage of letters?

why are the letters raised?

What do the height of the stacks mean? Are they significant?

Why are those letters raised?