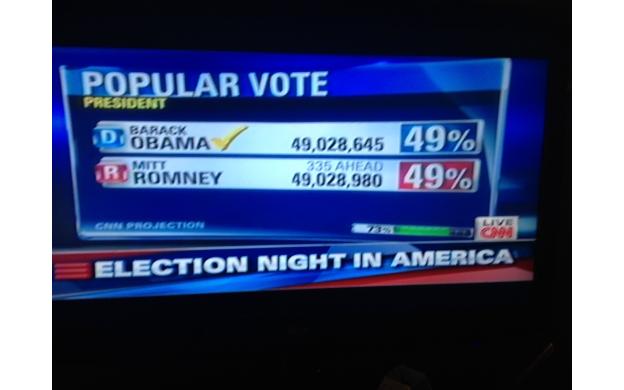 November 06, 2012

Why isn't this 50% and 50%?
What is Romney's percentage lead?

How did CNN arrive at the conclusion that President Obama is the winner?

Why is the electorate system in America so gamey?

How many more people need to vote and did only 2% vote for other candidates?

why isn't romney the winner of the popular vote

Why is Obama predicted to be the winner if he has fewer votes?

How do you give a check to anyone when it is that close?

What percent margin is that?

How can Obama have won if Romney is ahead in votes?

How many people voted for a candidate that they didn't really believe in, but--because of our system---felt like they had no other choice?

How could it show Obama winning when Romney has more votes? Is this because he was projected to win the electoral college?

How on earth did Romney manage that many?

Why is Obama declared the victor when Romney is ahead?

How can Barack Obama win the popular vote with fewer votes than Romeny?

How is Romney 335 ahead, but Obama was selected as winner of the popular vote?

Oh no is this another electoral college critique?

If the margin is 335 with 73% of the vote in, what was the final margin?

How can you lose the popular vote but still win the election?

Why does it Romney ahead but Obama has the check mark?

Why do they both have 49% if Romney has more votes?

How does Barack Obama have the check mark?

Why is it 49% each when the total votes are different?

How could each candidate have 49% if the numbers of people that voted is different by 335?

What's the population of the United States?

By the end of the counting, how far ahead was Obama?

How many people did not vote for either Obama or Romney?