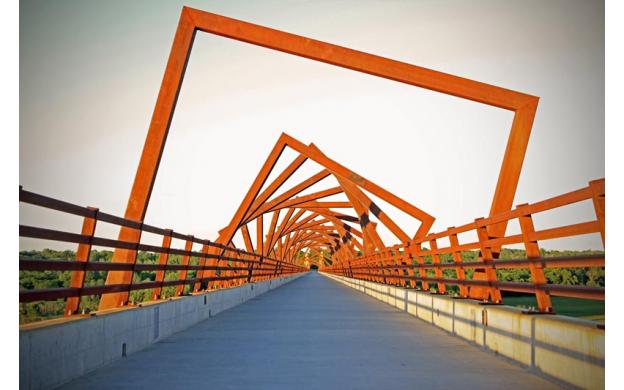 October 30, 2012

How many squares fit in a complete rotation?
Does the distance between the shapes differ and affect the perception?

How much is each rotated from the one before?

What is the angle of rotation?

are all the squares the same size and same distance apart?

Is that japanese style art?

how many squares before it completes a full rotation?

Where is this? I want to go there!

why does it look like a cylander?

How long does the bridge need to be for a given angle of rotation?

what angles is it turning at?

How long is it from here to the end of the bridge?

Wow! What shape is underneath and how is the bridge supported

Would this pattern still come up with other shapes?

How many radians of rotation for successive arches? and What country is this in?

How much of a transformation is there?

What transformation is taking place here? With this same transformation, how many arches would be needed to see the first arch appear again

What is the angle of rotation of the squares?

why is it shaped like that?

What angle is it rotating in each iteration?

Are we looking at the first overhead frame?

What is the angle of rotation (for each shape)?

This is cool. I don't know what question to ask though!

Is it real ? If so where is the world ?

Whose crazy design idea was this?

How many degrees to the square-like arches rotate?

How many squares are there?

How much total wood is necessary to create the bridge frames?

By how many degrees is each successive piece rotated?

why are the squares rotated

what is the rotation rate at which the rectangles change?

What's the difference in the degree of tilt bw each arch?

By how many degrees is each successive shape rotation? Around what point?

Can a curve be made of lines?

Does the square shape end up rotating 360 degrees?