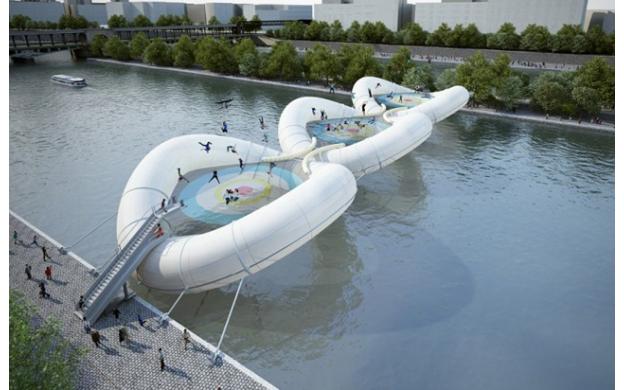 October 19, 2012

If it takes 3 trampolines to cross the Seine, how many trampolines are needed to cross the Atlantic?
What percent of the people fall into the water?

Where do I go to get one one of these?

How evenly do the jumpers need to be spaced out?

Ahhh, ... which nation cares so much for the good life that they have allowed this to happen for their citizenry? I shall live there.

How high would I have to bounce to fall into the water?

Why does this even exist?

Are those hyperbolas between the trampolines?

How many people have fallen off?

Where is this and how can I get there?

how many end up in the water

How many people can cross at one time?

The diameter of each trampoline is 8 metres: write a function that describes jumping from one centre to another, with a height of 15 metres.

If each section of trampoline bridge is 19 meters long, how wide is the river?

How far across the river does it stretch out?

How many people can jump on that at one time?

How many people can this hold?

How can I get an office with a window by this bridge?

How many people have gotten injured on this thing?

What's the smallest number of jumps to get across the bridge?

Is that fun or damgerous?

Where could you have this much fun?

How does the number of midair collisions relate to the number of people bouncing?

Where is that? Can I play?

How high do the people jump?

How long does it take to get to the other side?

What is it? How high do you bounce? Do you bounce higher if you hit the bullseye? Is it safe?

How many people can fit on the bridge before they get wet?

why are people falling in?

What time of day would it need to be for those shadows?