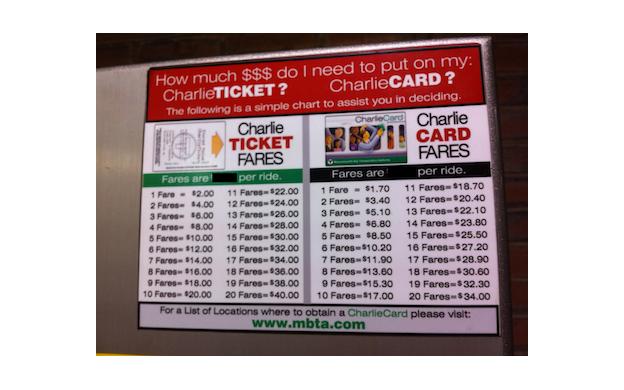 February 03, 2012

How much is the fare with the card? Without the card?
Why isn't there a discount? Bastards.

Why is the card cheaper than the ticket?

Why would you not get a card?

how much per fare i guess!

Is there a fare choice that is better than all the other choices?

At what point is the Charlie card 'worth it'?

How much do you save over a year by getting a Charlie Card?

How much could I save over the course of a year by getting the card?

Which option is cheaper? (You may want to block out the first column for each option, as the cost for one fare is in each of them.)

How much $$$ do I need to put on my Charlie Card?

How much will a Charlie Card save me?

If you wanted to ride exactly 30 times, what is the cheapest it could cost?

Is the savings on the card linear?

Is there a system of equations here?

Are there discounts for purchasing more fares at once?

How much is the Charlie Card?

Who the heck is Charlie!? (Is that from the Kingston Trio song?) Is it better for the environ to have people do the paper tickets or cards?

How much do I need to get somewhere?

How much does each ride cost for a Ticket? How about a Card?

Should I get a ticket or a card?

Why are Charlie cards cheaper than tickets?

How can these data be presented more visually?

Why is the chart on the left needed? Is multiplying by 2 that challenging?

Is the ratio between the two cards consistent?

How much cheaper per ride is the Charlie CARD?

Is there a shorter/simpler way to display the price per fair for both the ticket and the card?

Why it is cheaper to ride with a Charlie Card than with a Charlie Ticket?

How often do I ride the Charlie?

Which is the better deal? (And will he ever return?)

Why isn't there a discount for 20 fares?

How much could you save per year by using the less expensive choice?

What is the cost per ride?

What is the price for some combination of fares above 20?

Why is a Charlie Ticket more expensive than a Charlie Card?

Why are no discounts offered for quantity purchases?

Which pass should you buy?

Are they really selling Charlie rides?