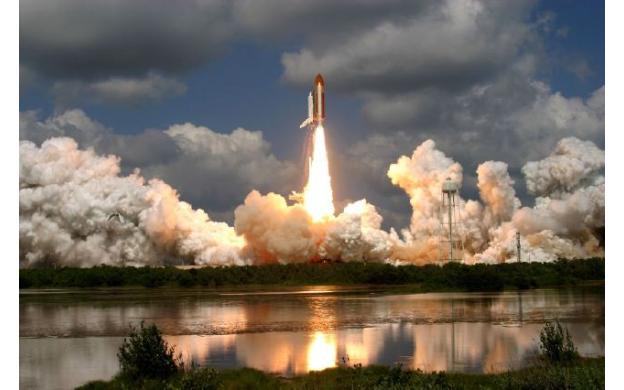 February 02, 2012

How much total money did it cost to launch this shuttle?
How fast is that thing going?

How fast is the rocket moving at this moment?

How easy would it be for a person to launch his/herself into space?

How wide does that cloud go?

How much fuel is being burnt?

How far back is it safe to stand?

What's the speed of the shuttle?

What is the speed of the shuttle?

What is the volume of the smoke created?

How much energy to get that high?

How long until the dust settles?

How much fuel has been spent since take-off?

How much thrust do you need to escape Earth's atmosphere in the space shuttle?

what is the volume of fuel compared to exhaust?

What is the ratio of the rocket's height vs the width of its cloud?

How fast was the shutter speed?

How loud would it be to be that close to liftoff?

What is the time of day when this picture is taken?

how fast does the rocket need to accelerate?

How cool is that? Followed by 'how much acceleration must that be inside.'

What space shuttle launch is this?

how many gallons of full does the center booster hold?

How much greenhouse gas is released?

How fast is it going right this minute?

What is the accel. of the ship?

What is the average (mean) number of astronauts who died per shuttle launch?

how much fuel/rate of expansion

Do shuttle launches deplete the ozone layer?

What is the altitude of the shuttle at this moment?

What is different about the clouds in the sky and the clouds on the ground?

How far away does the cloud spread? How far away is "safe"? Where would I be incinerated, and where would I be just slightly toasted?