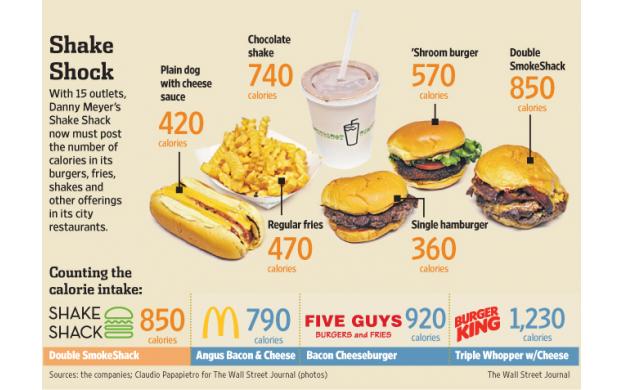 September 23, 2012

How quickly can you get to your daily caloric needs with each item?
Why were those burgers chosen on the bottom?

How much more is the hot dog than the fries?

Why is McDonalds so much lower than the others -- because there's less beef?

What is the best sandwich to have for your dollar?

How would one meal compare to what your daily calorie intake should be?

How many burgers would equal my recommended daily intake?

How many calories were in my last meal?

How can the shake have so many more calories than a greasy burger?

Where is Danny Meyer's Shake Shack?

How could you change the recipes to cut down the calories, but still have the same idea?

Why is a shake more calories than fries?

how man calories in one meal?

How much fat is in Regular fries

if u eat all this what is the first number will u call ?

What percentage of my daily allowance?!

Why count calories if you are eating fast food?

What % of your daily caloric intake is eaten if you have a chocolate shake, regular fry, and 'Shroom burger?

What's the level of obesity of a typical customer at this store?

how many calories in whole meal

why is burger kings so high

Which of these has the highest caloric density, that is, calories per ounce?

How can we compare this information accurately?

Which is the most calorie dense food?

How many calories in an entire meal?

Is there anyway to a healthy meal?

Why don't these "food products" have warning labels?

What is this problem about?