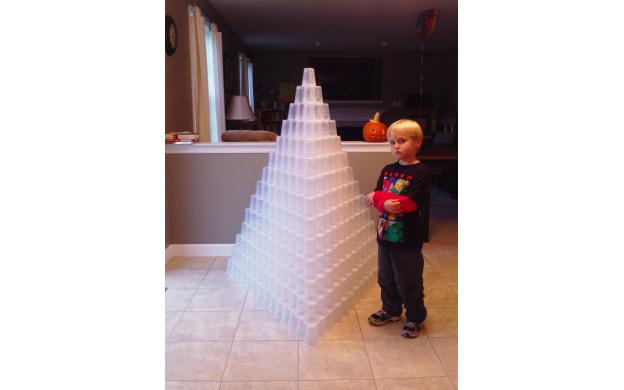 September 08, 2012

What's the largest pyramid I can make in my kitchen?
What is it made of? Which cup does he take first?

How many cups? What's the kid got to do with anything?

Did the kid make the pyramid?

How many cups would be used for the base if we continued the pattern for 15 more rows?

How many cups are in the pyramid?

Is the shape solid in the middle or are there holes?

How can you determine how many cups were used in this model?

What percentage of all the cups can I see in this picture?

How long did it take to build that? How many times did he fail?

How many cups are there!?

Why is there a cup pyramid?

How many cups in the pyramid? Who built it?

How many cups would a pyramid twice the size need?

What is the pyramid made of?

How would the construction have been different if it was made with cans instead?

What is the rule to find the number of cups in total for a stack that is N cups high?

How many packages of cups did he waste?

who is going to clean that up?

How many fewer cups would be needed if the tower was the same height as the boy?