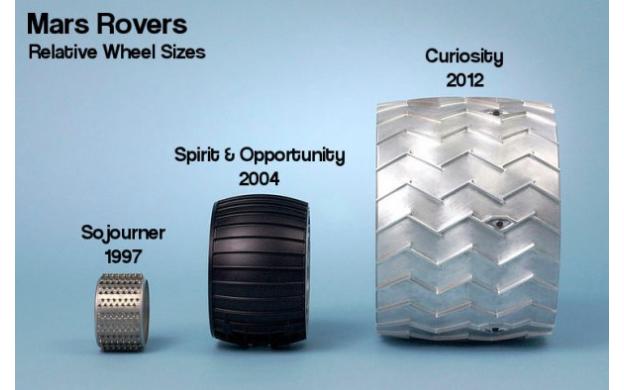 August 25, 2012

Are the relative costs of the various rover missions proportional to the size of their wheels?
What are the advantages of the newer wheels?

Why do they need to keep increasing the wheel size?

How does tire size affect speed?

Why do the wheels keep getting bigger?

How much bigger is Curiosity than Sojourner?

What has inspired the increased size in wheels? Bigger rovers?

How do each of the textures affect the motion of the wheels?

How many times bigger is the Curiosity tire?

What is the size going to be in 2016?

How heavy were the different rovers?

Why the size difference? Is there a weight difference too?

How much larger is the Curiosity wheel compared to the others?

How do the diameters compare

will it keep getting bigger?

Is the width of the road proportional to its diameter?

In 100 revolutions, which wheel will have gone further and by how much?

How many questions do I have to answer.

How do the surface areas compare?

which can stick to the ground of the moon

Why are the tires different sizes?

Why did they keep getting bigger?

Are the rovers themselves also getting bigger?

Why have the sizes of the wheels grown over time?

What problem is the larger wheel size addressing?

How many times larger is the surface area of one revolution of the Curiosity wheel than the other two?

Does size matter after all?

Did the size of the rovers increase by the same amount, too?

Why did the wheels increase in size?

Does the vehicle itself increase in size as well?

why do the wheels keep getting bigger?