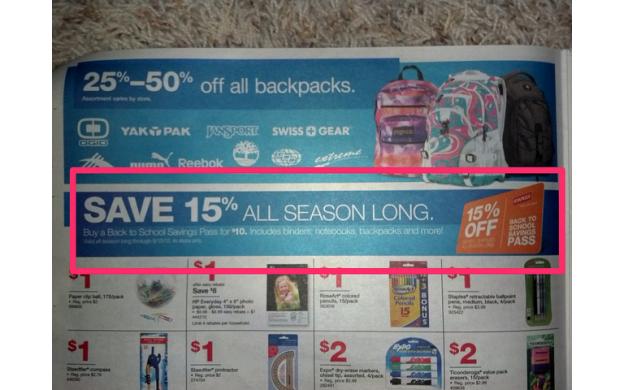 August 12, 2012

How much do I have to spend to break even?
How long's the "season"? September through June?

How much stuff do I need to buy to save more than 10 dollars so this is worth it?

How much do Kneed to buy to come out even

Is the 15% on top of the 25-50% off the backpacks?

is a new school year about to start

How much do these items cost?

How much would the $2 items cost?

what's the area of the rectangle?

How do I figure out 15 percent of an item?

How much would you have to spend to earn back your $10 investment?

Asking the same thing...Should I buy it? How much do I need to spend to save? How does the tax rate affect my answer?

What would be the discount using both savings

How much would the dry erase markers cost?

If you were to buy $600 worth of items over the month of September, how much would you have spent per day if there was not a sale

How much would I need to spend to make it worth my while?

If a backpack costs $10.50 and you save 50%, how much money do you save?

What is the definition of Season?

What is the season? Back to school?

What season? What does the fine print say? What store?