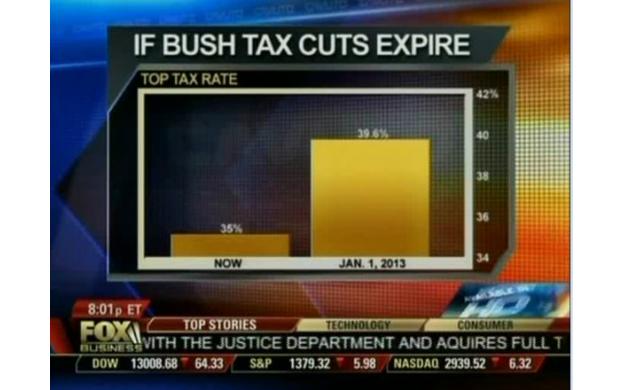 August 03, 2012

What does this graph imply?
Are we going to be taxed 5 times as much in 2013???

How misleading is this graph? Why don't Americans see through Fox News? Will improving math education help them think more critically?

Uhhhh who made that graph and what side of the political spectrum are they?

Why does 4.6% look so large?

Why is the chart misleading?

How did they not catch that mistake!

is that an accurate representation?

what is our tax rate now?

What's the relative increase from 35% to 39.6%?

How much additional money will the Gov't receive?

Try to slant the news much?

How much more will an average family have to pay in taxes if the tax cuts expire?

Why is it so low when it expires?

How can you change the scale bars to make the message of the graph different?

What if the scale was 0-100?

Where's the rest of the vertical axis? Doesn't start at zero.

What makes this graph so shocking?

How is this graph misleading?

What will the tax rise mean for the average family?

why is this graph so skewed?

When will Fox news ever stop using biases vertical axes?

why is the y-axis truncated down to make it look so drastic? (4.6% difference)

Why is this so out 0f date?

What is this off it only changes 4%

How would revenues be affected

What does this graph look like when the percentage scale goes from 1-100 rather than 34-42?

Why does it look like Jan 1, 2013 is so much higher than now?