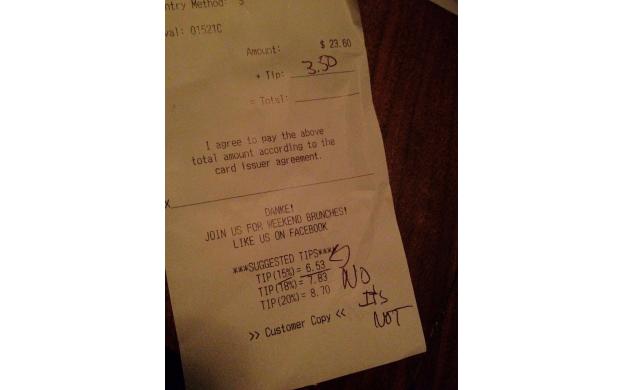 July 27, 2012

Are they mistakes (are the suggested tips consistent)?
That's evil. What % is that really?

Is 15% of 23.60 really 3.50 or 6.53?

What percents were they giving you instead?

Are they ripping me off here?

What would the tip percentage be if 6.53 was tipped?

What did the computer do wrong?

How much should the 15% tip be?

Why do I need to understand percentages?

What percent is that really?

WHat percent tip was given

Did you have a coupon for "$19.90 off your next meal"?

What was the price before cupon.

what amount are they calculating the tips on?

What restaurant is this from. I won't go there.

What is the actual 15% tip?

Was this a mistake? How'd they calculate this?

What are the correct "suggested tip amounts" for this bill using the percentages given?

What error might have been made to arrive at these suggestions?

What is wrong with the cash register?

Where'd that weird result come from?

What is the actual "suggested" tip percentage?

How much would the meal have to cost for these to be correct?

Who's doing the math at this restaurant?

How much did this suggestion overcharge?

What is 15% of this receipt?

What are the actual suggested percentages?

Where did they get the suggested tip from?

What was the price they based the tip off of?