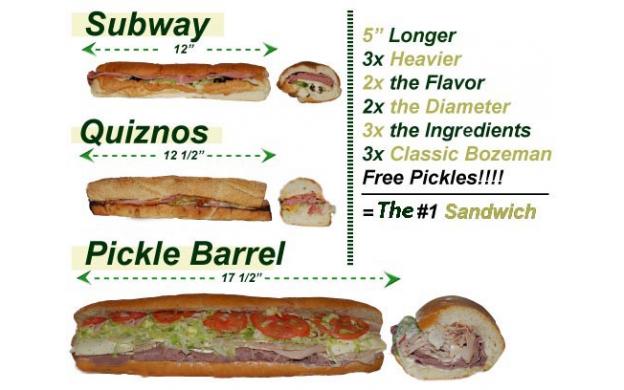 June 29, 2012

Is that sandwich really half as dense as the others? C'mon...
But can I fit that thing in my mouth? I hate food which is too big for my mouth. And how much are you charging for that thing?

Please, tell me . . . where's the Pickle Barrel???

Are they similar in three dimensions?

Is it worth the price, though?

Does the growth in price match the growth in calories?

How doe the volumes of these sandwiches compare?

How much heavier is each inch?

How many times better is it?

how many calories in that sandwich!?

Which is the better deal by price?

What are they comparing the amount of meat on the sandwhich too?

What is the differencce in circumference between pickle barrel and subway?

Is it 3x the price as well?

Is Quizno's worth the price?

If it's 2x the diameter and 3x heavier, how many times longer is it? Does that work with the dimensions given?

What is the weight of the largest sandwich?

How much does the biggest sandwich cost?

Is price proportional to volume, length, or neither, and is there a discount for buying bulk?

If the Subway sandwich costs $5, how much should the Pickle Barrel sandwich cost to be the same price per amount of sandwich?

How much does each one cost?

How do you measure flavor?

Is Pickle Barrel worth the cost?

Where is the nearest Pickle Barrel?

Do they all cost the same?

What is the cost of each sandwich? Is cost proportional to size?

Why does someone need to eat a sub that big?

which is best value for money?

Which one is the best sanwich?

How do you measure 2x the flavor?

How do they measure flavour?

What prices are associated with the sandwiches?

Where is this restaurant?

What is the price difference?

Are all these claims accurate?

How much is the Pickle Barrel sandwich?

How much does the sandwich weigh?