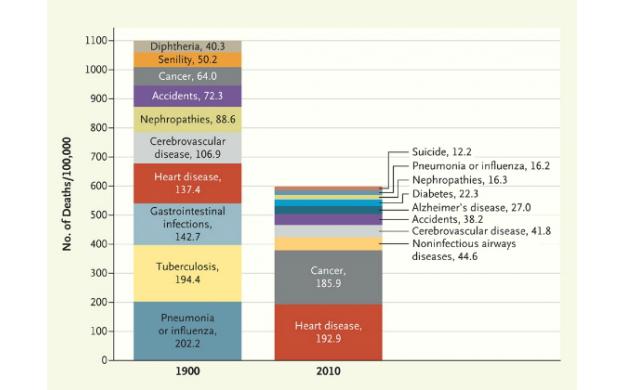 June 22, 2012

By how much have certain things like cancer increased in frequency? (Leads to a nice discussion of applied math in history and science.)
What's nepropathy? If there are half as many deaths per 100,000 is our population doubling?

Why do heart disease and cancer go up? Could it be that some people aren't succumbing to those other diseases anymore?

Are less people dying now? Or if the total bar is shorter, what are people dying of today that is not in this chart, cuz people still die?

Where did the big increase in cancer come from?

What the fuck is the ACA and AHA doing with their research money?

What happened to pneumonia & TB? Why is cancer's share so much greater in 2010?

Is the difference due to the fact that we're living older?

How are all the other people dying?

How reliable were our methods of checking these things in 1900?

What has caused the changes?

is heart disease and cancer kills only recorded more and is larger because people complain about it more?

Why has the number of deaths from cancer and heart disease increased in the past 110 years?

what the hell did everyone else die of? There's like 98900 people left alive in 1900!

Why has suicide increased?

Is that 1900-2000 or the decade from 1900-1910?

Why did the bar chart change so significantly from 1900 to 2010?

Are there causes of death that were not recognized as cancer in 1900 that now are?

What will be the causes in 90 years? Will cancer be greater or fewer?

What is this chart talking about?

How is it possible that deaths by accident decreased over the past 100 years?

What percent of total deaths is each category?

Why has death due to cancer almost tripled?

Why is cancer the only area that causes more deaths now than in 1900?

No one committed suicide in 1900?

What is the most common cause of death today?

At what death rate is the population steady

How old were people in 1900?

Is refrigeration responsible for the reduced the rate of gastrointestinal infections?

What are nonifectious airways diseases?

Why have heart disease and cancer increased over the last hundred years?

Which disease has the greatest frequency?

what accounted for this change?

Why the huge increase in cancer deaths?

Is there another way to represent this data? Pie chart?