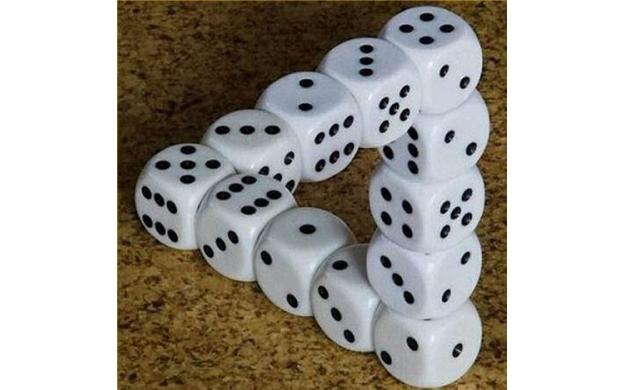 June 14, 2012

What's the probability of rolling 12 dice and getting more than 36?
How did you take this picture?

What is the total sum of dots from the faces you CANNOT see?

How did they do that? Mirrors?

what is the highest possible sum that would result from adding all visible faces?

What angles are formed within the triangle?

Is the dice laying flat or is this standing up to make it 3D?

What are the missing sides of the dice?

Is it flat on the table or raised?

What kind of triangle is this?

What patterns do you see in the dice?

Which row of dice has the smallest sum using the numbers not shown?

What did we do before photoshop?

what is the SUM of all the dice dots you do NOT see ?

Is this lying down or standing up?

How did they create this illusion?

What is the length of the base of the figure?

How are they stacked? How was this done? Is this an illusion? Is it lying on the floor? Was photoshop used?

How many dots can you not see

This was probably photoshopped, but is there a way to make objects that appear like cubes from one angle only but aren't really cubes?

Who's been mastering Photo Shop? That guy!