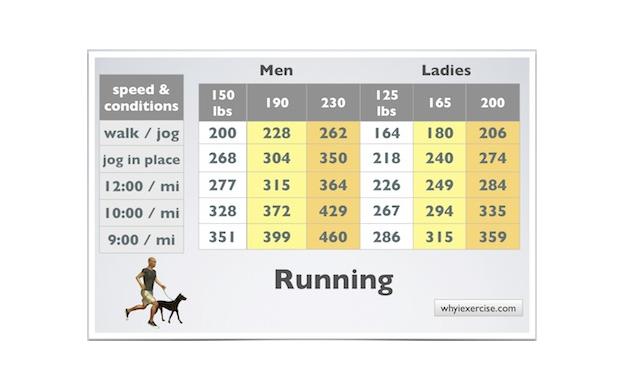 June 14, 2012

Are weight and calories burned proportional?
Does this chart still make valid predictions for persons weighing less than 125 pounds?

How do you interpret this?

Does weight affect the speed at which a person can jog?

Why do people run for fun?

How many people were studied?

Pick a pace and write the calories burned as a function of the weight.

How many more carolies do men burn than women.

is running pace proportional to weight?

What's the time frame attached to the mileages?

can someone explain this please?

how does weight affect walking and jogging?

The heavy you are the faster you run

Do the numbers represent calories per hour?

Are these intervals accurate in the table?

Is this about heart rates?

how many calories per hour do you burn during excerise?

Why would anyone want to jog in place?

What is the most efficient pace for weight loss?

What do the numbers represent? How many males, walk/job, and way 15 ibs would be my best guess.