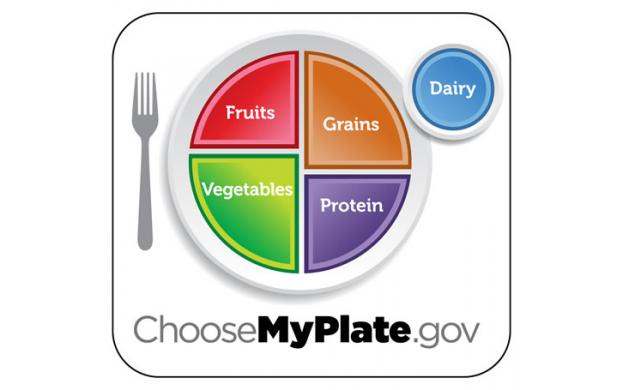 June 10, 2012

Is that cup of milk very tall?
What percent is each food group? Does dairy give you an extra % beyond 100?

How do I actually use this to make choices?

How many more vegetables services should a person eat than fruits?

Why did they launch the new site without a meal tracker!?

What percentage is each food group?

What percentage of each food group should one eat?

If vegetables is 30% of the plate, what percent of the whole meal is it?

What percent is each category?

How do the ratios here differ from those in the old model (food pyramid)?

Which is bigger: grains or vegetables? Why didn't they just make a pie chart so it is easier to tell?

How many calories do you get from each part of the meal?

What are the various percents?

That is that thing at school in the lunch room right

who did they pay to make this visual?!?! What percent of daily intake does each section represent?

What percent of diet should each category be?

And yet, why do so many people not follow that?

The future of food? Unidentifiable categories?

What fraction/percentage of each?

do the proportions correspond to healthy eating?

Why are the vegetables the largest portion?

What ratio is a balanced meal?

What percentage is each of those portions?

How many kids actually eat to these proportions?

What percent of a meal should be fruit/grain/protein/dairy/vegetables?

What percent is vegetables?

Why do the categories not match?

what % does each category make of total daily calories?

What fraction is vegetables?

What fraction of my daily plate is dairy?

What is the percentage of total area by category?

Is there a height requirement on these?

What percent is each item?

Why do we have to eat green stuff?

What % of my food should be Dairy based on this infograph?

what percentage of each type of food should we have each meal?

Is your food intake comparable to the graph?

What is the percentage of each serving?

What are these percents? Is milk - I mean dairy - another whole, or is this just more than 100%?